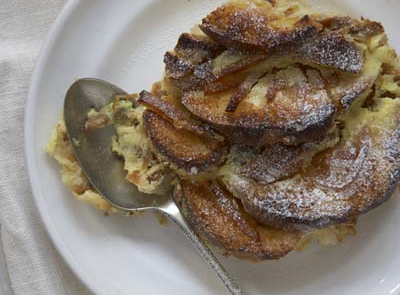 Marmalade Bread & Butter Pudding
The recipe makes a large pudding for 8, but if there are less of you – just halve the ingredients
Ingredients
Leftover brioche loaf, or failing that any good white loaf or even some stale croissant.
jar of marmalade
30cl grand marnier
200g sultanas
For the crème anglaise
10 eggs
150g caster sugar
1 litre full fat milk
1 vanilla pod
Preparation
Weigh or measure the sultanas, grand marnier and sugar.
Place the sultanas in the grand marnier and leave to infuse.
Slice the loaf into 1cm thick slices.
Separate the eggs and discard the whites.
Split the vanilla pod in half down its length and scrape out (but do not discard) the seeds.
Preheat the oven to 210°C (static) / 190°C (fan).
Method
Place the milk, vanilla pod and seeds into a heavy bottomed pan and bring to the boil.
Combine the egg yolks and caster sugar in a bowl until they take on a mousse like appearance and a pale straw colour.  Pour the milk into the egg mixture and whisk well.
Return the crème to the pan and place over a medium heat.  Using a wooden spoon stir continuously in a figure of 8 until it thickens enough to coat the back of a spoon.  (To test, lift the spoon out of the crème and draw a line down the back of the spoon.  If the line stays clean it is cooked.)  Strain immediately into a clean bowl and continue stirring for a few minutes.
Spread the sliced brioche with marmalade, then cut in half diagonally to form triangles.  Strain the sultanas.  (Do not discard the grand marnier.)  Arrange the triangles (points up) and sultanas evenly in an oven proof dish making sure there are no gaps between the slices.
When the dish is full slowly pour the crème over the brioche allowing time for it to absorb the liquid.
Place in the pre-heated oven and cook until golden brown (20 to 30 minutes).
(Optional) warm the grand marnier in a small sauce pan.  Remove from the heat and set alight with a match or taper.  Pour the flaming alcohol over the pudding.
To serve, sprinkle with a little sifted icing sugar.  Serve with crème fraiche, vanilla ice-cream or any left-over crème anglaise.
https://www.thebertinetkitchen.com/wp-content/uploads/2020/03/MarmaladeBBPud.jpg
530
400
Jo Bertinet
https://www.thebertinetkitchen.com/wp-content/uploads/2018/06/web.png
Jo Bertinet
2020-03-18 21:52:11
2020-03-18 21:52:11
Marmalade Bread & Butter Pudding