The Bertinet Kitchen opened in September 2005 in the centre of beautiful and historic Bath.  Owned and run by French baker and chef Richard Bertinet, the school offers a range of relaxed and fun courses for food lovers of all abilities and specialist baking and bread making courses for amateurs and professionals alike.
The school won the South West Tourism Award for Best Tourism Experience in 2009 and has been featured in the US television series on PBS: Gourmet's Adventures with Ruth – A Tour of Cookery Schools Around the World.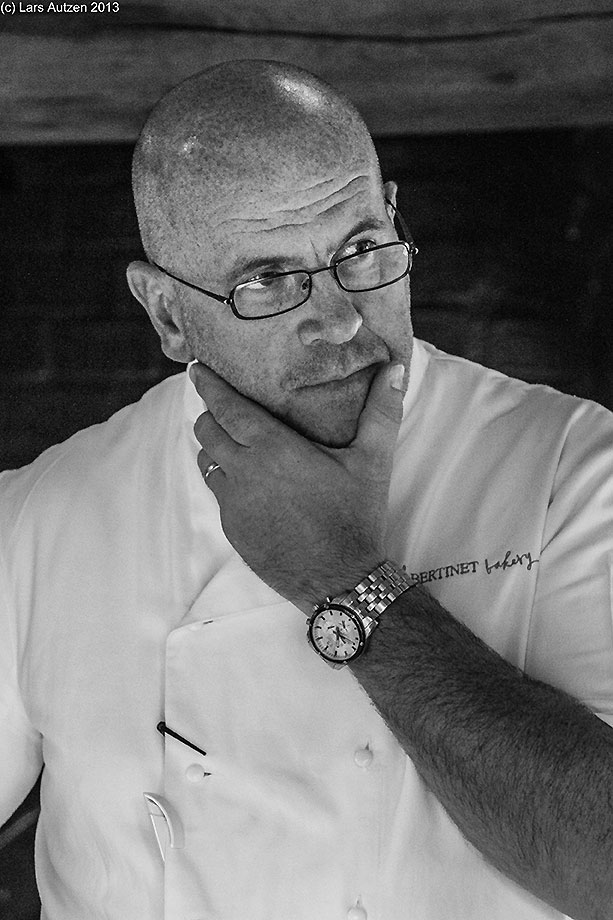 Richard Bertinet
Originally from Brittany in north-west France, Richard trained as a baker from the age of 14.  After moving to the UK in the late 1980s, he started cooking. His catering background included time as pastry chef at the Chewton Glen Hotel and as head chef at both the Rhinefield House Hotel in the New Forest and the Silver Plough at Pitton, where he was awarded the Egon Ronay, Pub of the Year, and the American Express Magazine, UK Pub of the Year. In 1996, a position as operations director with the Novelli Group of restaurants brought him to London where, in 1998, he started advising small food-related businesses. And in 2000, he set up the Dough Co, his consultancy business. From here, he divided his time between consultancy work advising on the development of new products for several supermarket chains, teaching and writing.
In 2005, Richard and his wife Jo opened the cookery school at the same time that Richard's first book Dough was published to critical acclaim and a host of awards such as IACP cookery book of the year 2006, the James Beard Award for Best Book (Baking & Desserts) and the Julia Child Award for Best First Book. Richard published his second book Crust in 2007 (World Gourmand Award for Best UK Book – Baking), Cook – In A Class of Your Own in 2010, Pastry in 2012 and Patisserie Maison in 2014. Most recently, in 2019, Richard published Crumb – Show The Dough Who's Boss! 
Richard was named the BBC Food Champion of the Year 2010 at the BBC Food & Farming Awards on 24 November 2010. 
In 2012, Richard and Jo founded The Bertinet Bakery, to produce artisan bread for as wide an audience as possible and achieved nationwide listings with both Waitrose and Pret a Manger before selling the bakery to The Bread Factory in 2019.
Richard makes regular TV appearances on programmes such as James Martin's Saturday Morning, Saturday Kitchen and An Extra Slice. He also appears at food shows around the UK and offers an online course through BBC Maestro. 
The office team...
jo harrod bertinet
Jo is the boss!  Formerly a commercial lawyer in London, Jo heads up the company and all things Bertinet.  She has sat on the board of Visit Bath the local tourism authority and ICSA (the cookery schools association).  She is currently doing an MBA part time at the University of Bath.
carrie bell
Carrie is the glue that holds the team together.  Carrie has a background in TV production and not only is she in charge of money and media but she is also the lovely person who deals with the team.
kelly williams
Kelly keeps us all in shape and the office running smoothly.  Able to turn her hand to anything, don't be surprised to find her questioning Richard about her fougasse!
The kitchen team...
jen crabtree
Jen is heading up our Kitchen team having recently moved to Bath.  Bringing a wealth of experience and skill on the baking and cooking front, Jen has also taken on a building project to get her house in working order.  Flour and dust are on the cards for a few months we think.
Daisy Bettesworth
Daisy brings a huge talent to our Kitchen.  Her baking is something to behold and is going from strength to strength – ask her about her pink unicorn cake!
Rebecca Kemp
We welcome Rebecca to our Kitchen team, working alongside Jen and Daisy.  Even before she started, Rebecca had got her hands deep into dough and we are excited that she is bringing her keeness into the Kitchen.
Our house chefs...
jenny chandler
Jenny Chandler studied Spanish and Catalan at the universities of Bristol and Barcelona. After training at Leith's School of Food and Wine in London, she worked as a chef on a luxury yacht based in the Mediterranean and in Barcelona. She is our longest-standing and most experienced house guest chef and has worked closely with Richard since the school opened in 2005.  She runs her own classes in Bristol and has written two cookery books on Spanish Food: The Real Taste of Spain and The Food of Northern Spain (shortlisted for the prestigious Andre Simon award). Her book Pulse was published in 2013 and in 2016 the UN appointed her Ambassador for the Year of Pulses.  Her latest book is Cool Kids Cook.
Valentina Harris
Valentina is a much loved and noted authority on Italian Food and has written over 20 books on Italian cookery including the award winning Perfect Pasta. She appears regularly on television and has had her own series on BBC called Italian Regional Cookery.
Ghalid Assyb
Ghalid was one of the original team at Ottolenghi the fantastic London bakery. He works as a chef and patissiere and teaches in London and with us at The Bertinet Kitchen in Bath.