The Bertinet Kitchen opened in September 2005 in the centre of beautiful and historic Bath.  Owned and run by French baker and chef Richard Bertinet, the school offers a range of relaxed and fun courses for food lovers of all abilities and specialist baking and bread making courses for amateurs and professionals alike.
The school won the South West Tourism Award for Best Tourism Experience in 2009 and has been featured in the US television series on PBS: Gourmet's Adventures with Ruth – A Tour of Cookery Schools Around the World.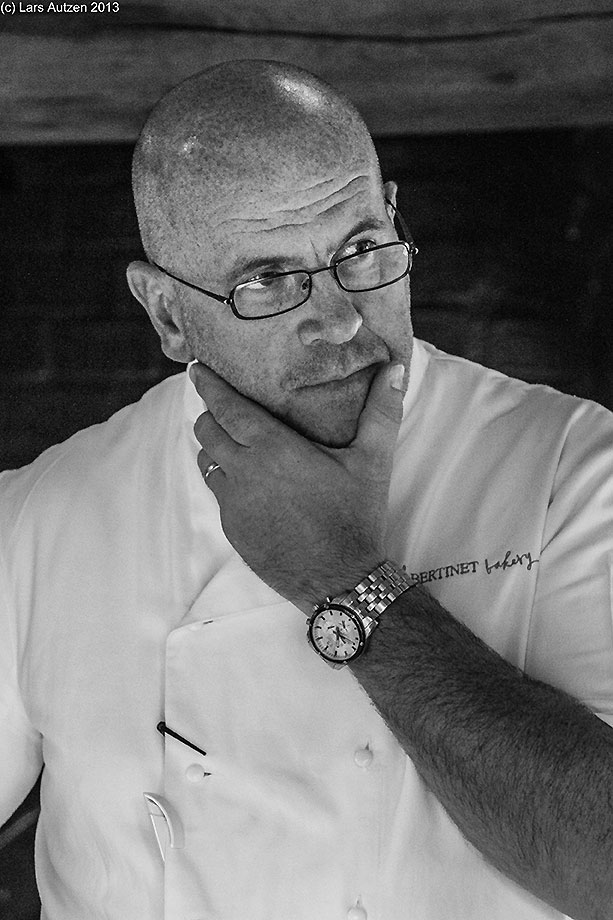 Richard Bertinet
Originally from Brittany in north-west France, Richard trained as a baker from the age of 14.  After moving to the UK in the late 1980s, he started cooking. His catering background included time as pastry chef at the Chewton Glen Hotel and as head chef at both the Rhinefield House Hotel in the New Forest and the Silver Plough at Pitton, where he was awarded the Egon Ronay, Pub of the Year, and the American Express Magazine, UK Pub of the Year. In 1996, a position as operations director with the Novelli Group of restaurants brought him to London where, in 1998, he started advising small food-related businesses. And in 2000, he set up the Dough Co, his consultancy business. From here, he divided his time between consultancy work advising on the development of new products for several supermarket chains, teaching and writing.
In 2005, Richard and his wife Jo opened the cookery school at the same time that Richard's first book Dough was published to critical acclaim and a host of awards such as IACP cookery book of the year 2006, the James Beard Award for Best Book (Baking & Desserts) and the Julia Child Award for Best First Book. Richard published his second book Crust in 2007 (World Gourmand Award for Best UK Book – Baking), Cook – In A Class of Your Own in 2010, Pastry in 2012 and Patisserie Maison in 2014. Most recently, in 2019, Richard published Crumb – Show The Dough Who's Boss! 
Richard was named the BBC Food Champion of the Year 2010 at the BBC Food & Farming Awards on 24 November 2010. 
In 2012, Richard and Jo founded The Bertinet Bakery, to produce artisan bread for as wide an audience as possible and achieved nationwide listings with both Waitrose and Pret a Manger before selling the bakery to The Bread Factory in 2019.
Richard makes regular TV appearances on programmes such as James Martin's Saturday Morning, Saturday Kitchen and An Extra Slice. He also appears at food shows around the UK and offers an online course through BBC Maestro. 
The office team...
jo harrod bertinet
Jo founded the company with Richard in 2005 and has been the driving force behind it for the last 16 years.  She currently sits on the board and is responsible for the strategic direction of the company but is no longer involved on a day-to-day basis. Jo describes her passions as family and cocktails and is probably the only member of the team that doesn't bake. The closest she gets is a lemon trifle every New Year's Eve.
carrie bell
Head of HR, in charge of Richard's TV and media work, and a whizz with finance, Carrie is the most senior member of the team. She has a love of travelling and sampling food from cultures around the world. Her most memorable food experience was a grilled seabass eaten at a local café on Portugal's Alentejo, closely followed by Richard's millefeuille. If she was any food or drink, she says she'd be earl grey tea – if checked, there would be a hint of bergamot running through her veins.
kelly williams
Kelly holds the office operations together and keeps everything running smoothly. She loves baking bread, especially making focaccia using Richard's recipe. Her passions include cooking, interior design and being creative.  Her favourite food can vary month to month and season to season!  Current favourites include stir fired rainbow chard, lamb koftas with homemade flatbreads and anything that somebody else cooks for her so that she don't have to cook!
The kitchen team...
jen crabtree
Jen is our head of kitchen and loves showing people how to cook and bake delicious, sustainable food. Her favourite bake is cranberry and orange spice buns, and her favourite food is steak shared with friends. In addition to cooking, she also adores swimming and swims whenever and wherever she can.
Daisy Bettesworth
Daisy says if she was any food, she would be shortbread, because she's simple, sweet, and not even 5ft tall! Extremely passionate about baking, she fills her time when she's not at the school with her own small business making cakes – her gorgeous Instagram, @daisybbakes, is well worth a follow.
Anthony Keung
Anthony is another big fan of baking brownies, although he's also partial to making a good roast dinner. His favourite food is lasagne, but his guilty food pleasure is prawn toast with a sweet chilli dip. Alongside cooking and baking, Anthony is a fan of badminton and restaurant reviewing.